2017 MS Golf Practice Groups
3:00 Varsity (Practice begins at 3:00 and ends at 5:00)
Brown, Burns, Gardner, Portilla, Hogue, Xian
Adkins, Burns, Johnson, Lewis, Lusk, Ogle
4:00 JV (Practice begins at 4:00 and ends at 5:00)
Ellis, King, Parker, Sabatini, Williams
Gower, Steen, Pendergrass
ATTIRE: Players must wear polos (shirts with a collar) and slacks (no jeans), skirts, skorts, or shorts.
Upcoming Events:
Monday, 3/27: Practice in facility.
Varsity: 5:00-6:00
Junior Varsity: 6:00-7:00
Tuesday, 3/28: Match with Soddy Daisy at Signal Mountain
3:30 - 7:00
Boys wear white on khaki.
Girls wear red on black.
Wednesday, 3/29: Normal Practice
Varsity: 3:00-5:00
Junior Varsity: 4:00-5:00
ANNOUNCEMENTS
3/27/2017

Team pictures cancelled. Will reschedule.

3/14/2017

Attire must be ordered ASAP. See email for details.

Fees: See email for details.

Friday, 3/10/2017

We will practice today. Please note the times above.

Note: There are two practice groups identified above. Although golfers will begin at different times, all golfers will finish at 5:00 on practice days and will be picked up at the practice green at the front of the Club.

The upcoming Thursday match with Ooltewah has been cancelled. We will practice instead.

On Saturday (tomorrow) we will hold an PLAYER-OPTIONAL one-hour practice with TrackMan and distance tests at the hitting facility according to the following schedule:

9:00 - Varsity Boys
10:00 - Varsity Girls
11:00 - JV

Thursday, 3/9/2017

Practice will start at the Pavilion TODAY - NOT AT THE RANGE.

Please fill out the Student Information Form on this page in order to be added to the mailing list.

Please plan to attend the Parent Meeting on Monday at 5:30 as it is a chance to meet other parents and obtain important information about the upcoming season. Note: Fees are $50.00. Make checks payable to SMMHS, and write "MS Golf" in the memo line.
IMPORTANT DATES
Practice Begins: Thursday, March 9 at 3:00
Parent Meeting: Monday, March 13 at 5:30 at the High School
REQUIRED: All students trying out this year must complete the online student information form
REQUIRED: Must complete to play golf.
Steps:
Click on the link to go to Privit.
Create a profile/account.
Add yourself to high school golf.
You are eligible when the status is "cleared."
Note: You will only have to upload one file - The Physical Form. Go to the forms section of the school site and download the "TSSAA Physical Form." Take it with you when you go to have your physical. Once completed, upload it to Privit, or take it to the main office, and leave it for Amanda Yother (school trainer).
Practice Rules:
All players must wear a collared shirt and slacks, shorts, skirts, or skorts.
Practice begins at 3:00 and when the coach arrives.
Players should not begin (e.g., hit balls) until the coach arrives - no exceptions.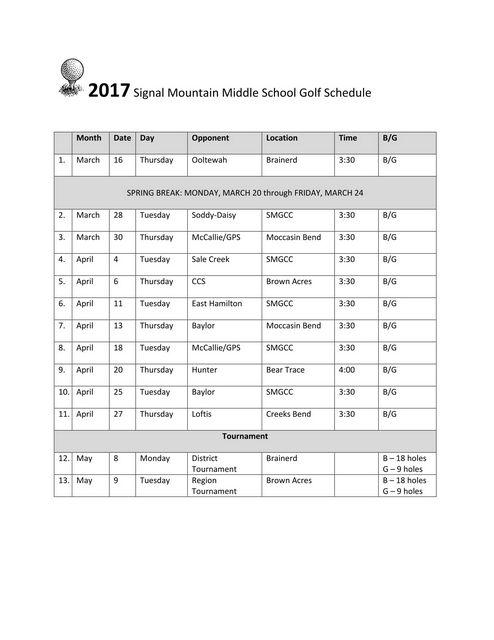 ---
SUMMER TOURNAMENTS
Parents,
Your child can benefit greatly by playing in summer tournaments. Below are four good option for middle and high school players:
1. CDGA (Chattanooga District Golf Association)
Six events; Local courses; Single-day, 18-hole events; $20.00 each
2. Sneds Tour (Partnership with the Snedeker Foundation)
Multiple events; Courses throughout southeast; Single-day, 9-hole and 18-hole events
3. HGJT (Hurricane Junior Golf Tour)
17 events; Courses around the eastern part of the US; Two-day, 36-hole events
4. AJGA (American Junior Golf Association)
Multiple events; Courses around the country; Various formats
By playing summer tournaments, players will meet and become friends with other players they are likely to see throughout their high school golfing career and beyond. It is also a great way to prepare for high school tournaments in which we participate each year.
The CDGA tour is a good option for most high school players; I highly recommend it as a minimum. Note that you can pick and choose which events to enter, and you do not have to enter all of them.
For more information, contact Haven Burns.
---